Survival Tips on
Robert's Rules of Order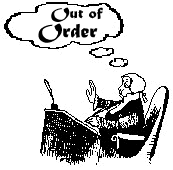 Four Motions that are always Out of Order
A Main Motion reflects the will of the members of the organization! However, the following 4 motions are never in order, even if adopted by a unanimous vote:
Motions which conflict with laws (federal, state, or local), or with bylaws, constitution, or rules of the organization;

Motions which present something already rejected during the same session, or conflict with a motion already adopted. (See Robert's sections on Rescind, Reconsider, and Amend Something Already Adopted);

Motions which conflict with or present substantially the same question as one which has been temporarily disposed of (meaning, Postponed, Laid on Table, Referred to Committee, or Being Reconsidered);

Motions which propose actions beyond the scope of the organization's bylaws. (However, a 2/3 vote may allow this kind of motion).
But, what if the motion is in order, and you still do not agree with all or parts of it? You can always protect your interests by amending the motion!