Survival Tips on
Robert's Rules of Order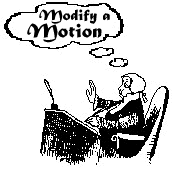 Five Ways to Modify a Motion
Motions are rarely perfect for everyone. Modifications are inevitable.
Between the time that a motion is made and before the chair states the motion,
any member may informally offer modifying suggestions to the maker of the motion. The maker may accept or reject that member's recommendations.

After the chair has stated the motion,
the maker of the motion may request unanimous consent from the members to modify the motion. Remember that at this time, the motion belongs to the assembly and not the original maker.

By means of the subsidiary motion to Amend,
any member may propose changes to the motion, before the motion is voted upon. These proposed changes must be seconded and may be amended and/or debated.

If a motion requires further study,
the members may vote to Refer the Main Motion to a Committee. When the committee returns the motion to the assembly, the committee normally proposes amendments for the assembly to vote upon.

Sometimes the motion is so complex
that the only way to do it justice is for a member to urge its rejection and offer to propose a simpler version as a Substitute Motion. Upon defeat of the complex motion, anyone may propose the Substitute Motion.
Once a member learns which motions are out of order, how to make a motion, and how to amend a motion, the member becomes a productive member of the organization. Until then, the member is just another victim of the organization!