Survival Tips on
Robert's Rules of Order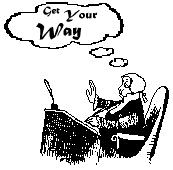 Using the 6 Steps to get Your Way
If you wish to defeat, delay, or weaken a motion that you are against, you need to know when you can interrupt the speaker with the precise modification or motion ...
To prevent the assembly from adopting the motion;

To assist the maker of the motion with the phrasing of the motion, so that it is even more confusing, less defendable, or less appealing;

To amend the motion to an extent that not even the maker of the motion will vote for its approval;

To prolong the debate and to confuse the issue until someone moves to Postpone Indefinitely or Calls for the Orders of the Day;

To disrupt the proceedings by introducing motions which can interrupt a speaker, without requiring a second, and without allowing debate, nor requiring a vote.
The result is that you can defeat a motion, even when the majority is in favor of the motion.
You can also do just the opposite - work towards the adoption of the motion. You can readily assure that a motion is adopted merely by anticipating and preventing your adversary's misuse of the 6 steps!