Survival Tips on
Robert's Rules of Order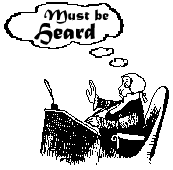 Entitled to be Heard
Who is entitled to be heard? When?
Any form of discussion on the merits of a motion is referred to as debate. You may not make a motion or speak in debate unless you obtain the floor, by being recognized by the chair. (See the situations where you may speak without recognition being required). You may not stand (waiting to be recognized) until after the current speaker has yielded the floor.
When a motion is pending (during a debate), the sequence of events is as follows:

The current speaker ceases his debate and yields the floor.

Other speakers promptly stand and state "Mr. Chair".

The chair recognizes the speaker who is entitled to speak next, based on the following general rules.

The first person who stood up AFTER the speaker yielded the floor.

The maker of the motion, if he has not spoken yet.

Whoever has not spoken on this motion, this day.

The person presenting an opposing opinion to the last speaker. The chair must allow the floor to alternate between opposing views.

If the chair fails to follow these rules, any member may raise a 'Point of Order' or 'Appeal from the Decision of the Chair.'
When a motion is NOT pending, any of the following sequences apply:

Member A has been assigned to make a motion for which the Special Meeting has been called. Member A is entitled to speak next.

Member B lays a motion on the table. Member B is entitled to speak next in order to Take the motion from the Table.

Member C moved to Suspend the Orders of the Day in order to enable a certain motion be made. Member C is entitled to speak next and make that certain motion.

Member D urges the defeat of a motion so as to offer an alternate motion. Member D is entitled to speak next and make that alternate motion.

Member E states he wishes to Reconsider the vote on a motion. Member E is entitled to speak next.